When you set up your Alto account, you'll be prompted to transfer funds from an existing IRA. But, odds are, you're going to want to add more funds along the way.
You can initiate a transfer of funds to your Alto IRA from your dashboard.

1. Locate the I Want To drop-down menu at the top of your dashboard.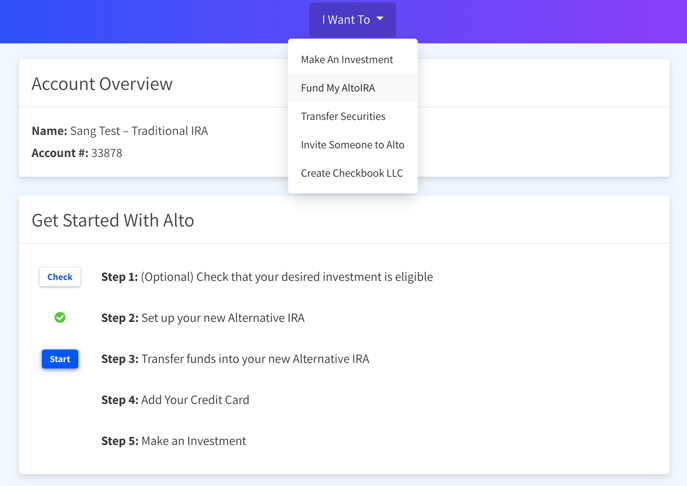 2. From the drop-down menu, select Fund My Alto IRA.
3. Select the type of account from which you'll be transferring money and click the Next button. If you're making a Cash Contribution, here is a walkthrough specific to that process.

4. Select the custodian that you'll be transferring from. You can find a full list of Transferring Custodians, average transfer speeds, and contact information here: Transferring Custodians. If you don't see your custodian listed, please select Other and let us know where your money is coming from. We'll gather their information and add them to our list.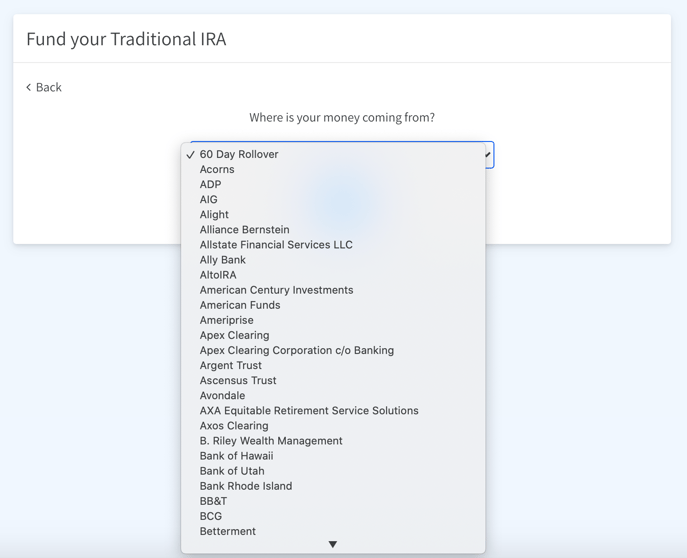 5. Enter in your account number and click Next.

5.1 Choose how much cash you want to transfer over and click Next.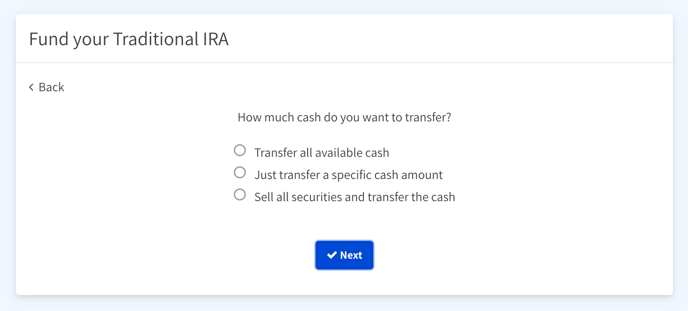 5.2 Choose how you would like to transfer funds and click Next.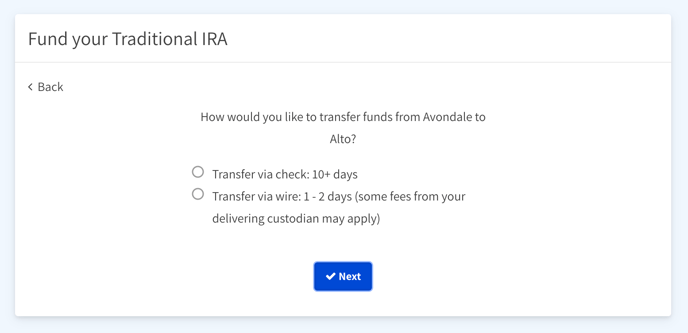 6. Review the details of the transaction and, if they look good, e-sign and click Add Funds. If any of the details need tweaking, click Make Changes.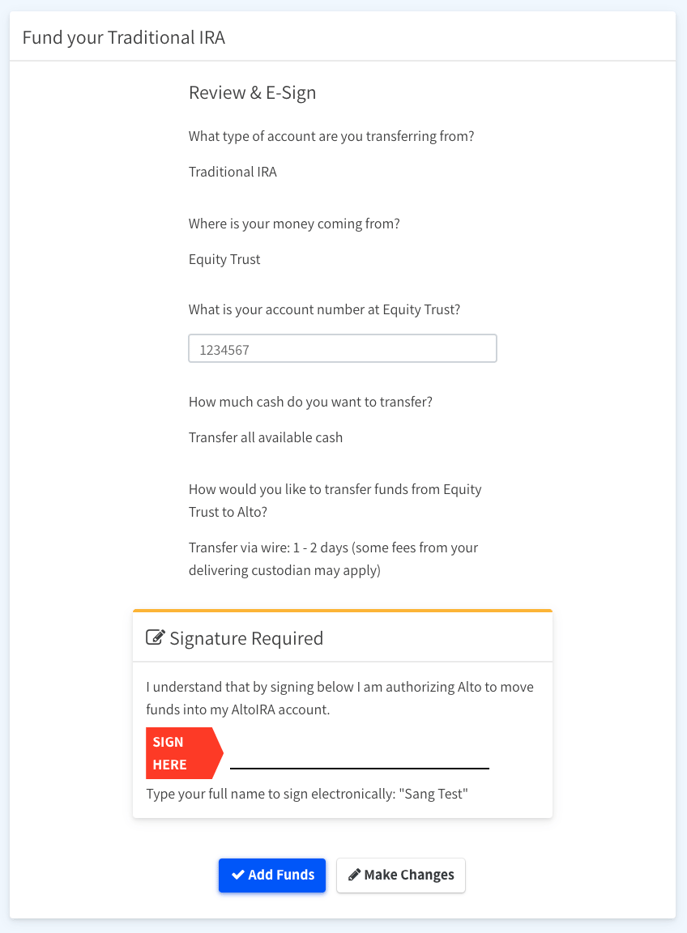 7. Complete necessary signature requirements by clicking Get Started at the top right corner.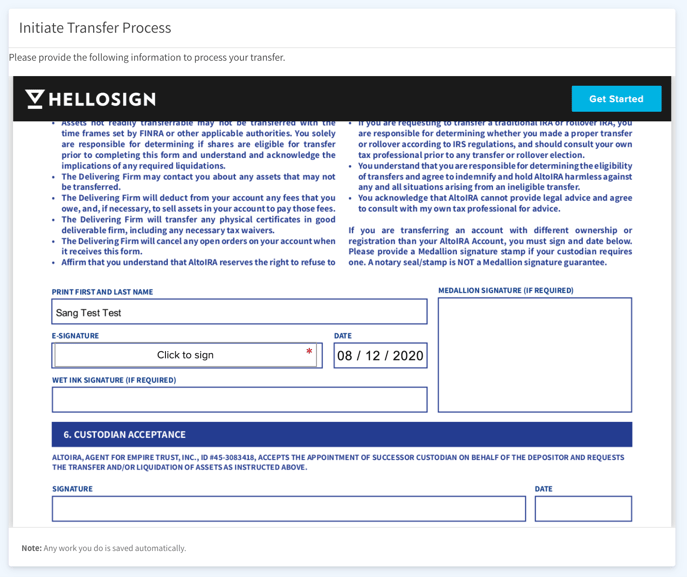 8. Your Transfer of Assets form is e-signed! You're almost done.

All custodians require a current account statement to be faxed along with the Transfer of Assets form, so let's upload that now.

If your custodian requires a wet signature, medallion signature or only accepts Transfer of Asset Forms via US Mail, you'll be prompted to follow a few additional steps before finishing the transfer process (see Wet Signature, Medallion Stamps, and Physical Mail section below).
9. Select the account statement you would like to upload and, once you have successfully uploaded the document, click Submit.

10. Success!

From here, we'll send the Transfer of Assets paperwork to your custodian to initiate the transfer into your new AltoIRA. This can take a few days, and timelines can vary depending on your custodian. While it's not necessary, it always helps if you call your custodian to inform them of the transfer and certify that you initiated it.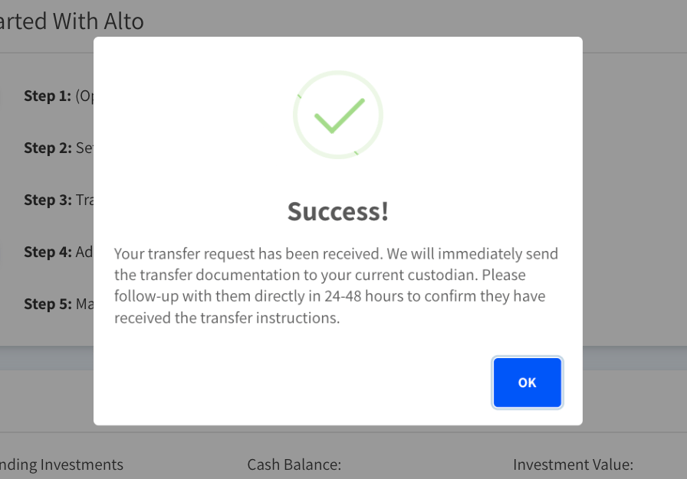 Wet Signatures, Medallion Stamps and Physical Mail

Some custodians require you to sign your Transfer of Assets form physically (wet signature), procure a medallion stamp from a local bank and/or mail your Transfer of Asset form directly to them.
Each of these has a slightly different flow within the Alto platform, and we'll walk through these below.
13. Wet Signature
A majority of custodians require what is referred to as a wet signature on Transfer of Assets paperwork. After you complete the DocuSign portion of the Transfer of Assets process, the steps are as follows:
Print the Signature Page of your Transfer of Assets form.
Using black ink, sign your name in the "Owner's Ink Signature" box, not the Print Owner Name line (see below). Custodians may delay or reject asset transfers if the wet signature is placed on the Print Owner Name or Owner's E-Signature line.


Scan the document you just signed, and upload it to Alto as "Wet Signed Version."
Click Submit, and then you'll be prompted to upload a recent account statement (see 14 below). Once you upload and Submit, we'll initiate the transfer with your existing custodian.
14. Medallion Stamp Guarantee
A small percentage of custodians require what is referred to as a Medallion Stamp on Transfer of Assets paperwork. While rare, it's relatively easily:
After completing the HelloSign portion of the Transfer of Assets process, the platform will prompt you to print the Transfer of Assets form and take it to a local bank, where you will sign in front of a bank employee so that they can verify your identity and provide you with a Medallion Stamp Guarantee.
Now that you've secured your medallion stamp, scan the signature page of the Transfer of Assets form in color and upload it to your pending funds transfer.
Lastly, as with all transfers, you will need to upload a recent account statement (see 8. above). Once you've completed this step, we will initiate the transfer process with your custodian!
15. Physical Mail
In some cases, your custodian may require you to mail your transfer of asset paperwork physically. Alto will provide you with your custodian's mailing address and alert you once funds have been transferred.