A step-by-step walkthrough to help you initiate cash contributions from your Alto dashboard.
IN THIS ARTICLE:
Note: In order to contribute cash to your Alto IRA, please add a bank account to your Alto account. You can add a bank account in Your Settings in your Alto dashboard.
Initiate a Cash Contribution
Start funding your Alto IRA with a cash contribution from your personal bank account by following the steps below!
Log into your Alto investor account and select Transfer Funds from the top of your dashboard
Select Into Alto from the drop-down menu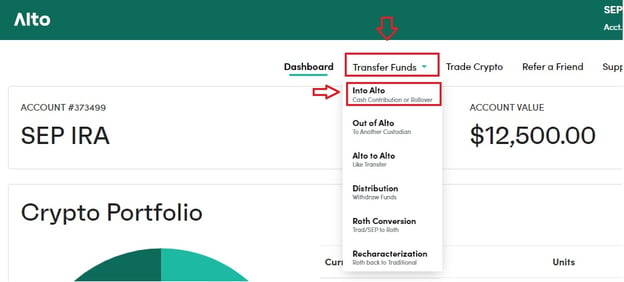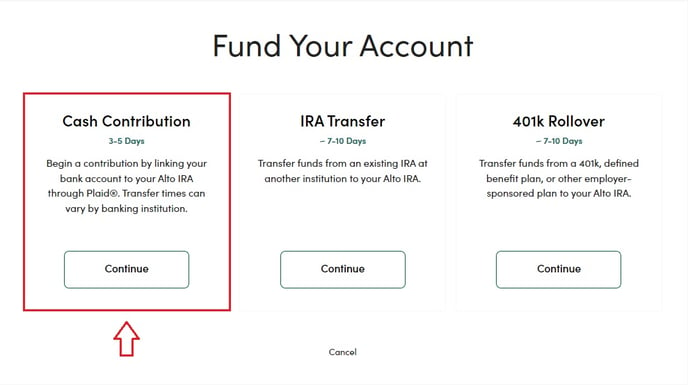 Select your bank account nickname from the Bank Account dropdown menu (If you have not previously entered your bank information, select Add Bank Account)

Once you select Add Bank Account, a window will pop up allowing you to select Continue to connect your bank account using our integration with Plaid.
From there, you will be able to select your bank by scrolling through the list or using the search option.

Some banks allow you to authenticate within Plaid, others will navigate you to a mini browser window that opens.

Within the mini browser window that opens (or, within Plaid) enter the credentials that you use to access your bank account.

If you have multi-factor authentication on your account, you will be prompted to enter your code.
You may be asked to confirm that you would like to share your data with Alto.
Select the bank account that you would like to link to your Alto account (this must be a personal account).

Once you've selected your account, Plaid will refresh and a gray panel will rise from the bottom of the widget as your account is linked to Alto.
If your bank is not currently supported by Plaid or if you experience issues connecting your account, we also accept funds via check. Please reach out to transfers@altoira.com for further instructions.
Once you complete the process through Plaid, you can continue the process by completing the steps below.
Select the year for your contribution from the Tax Year dropdown menu.
Enter an amount in the box below Contribution Amount
Click Continue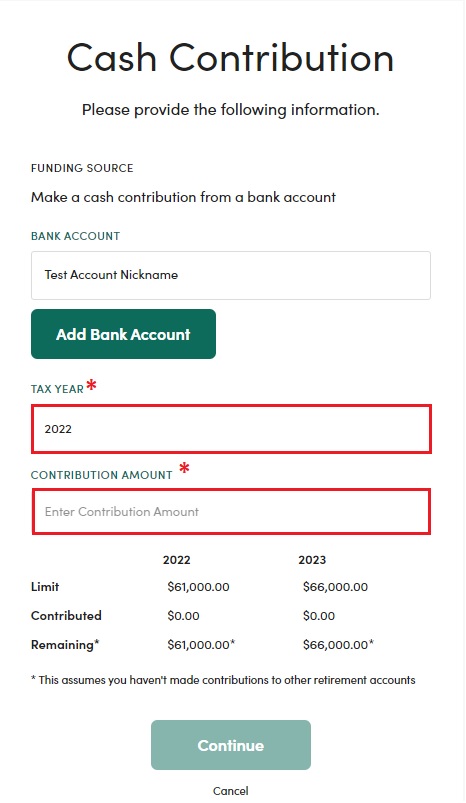 Confirm & Sign

Review the information on that page to make sure everything is correct.
*If you need to make changes, then click the Make Edits link below the Confirm and Sign button
If everything is correct, then type in your name as indicated by the bolded text underneath the signature box
Click Confirm and Sign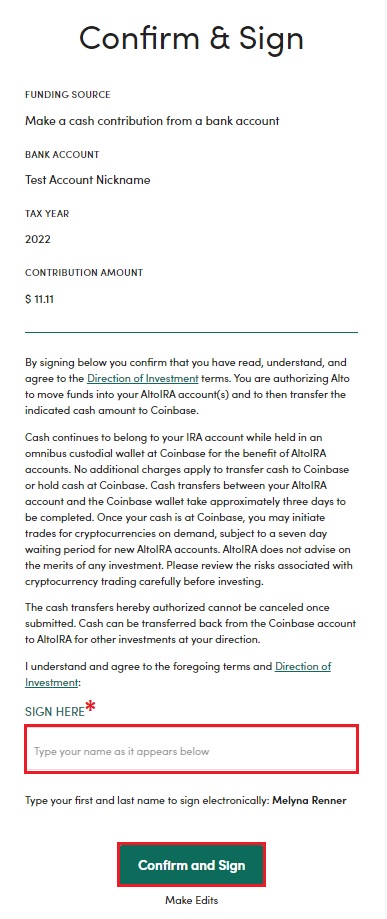 Add a Credit Card

If you haven't added a credit to your Alto account, then click Add a Credit Card to get started
If you have already added a credit card to your Alto account, then click Continue and you're done!
Cash Contribution Timeline
Once you've initiated a cash contribution from your Alto dashboard, your bank will transfer your funds to our bank account via ACH. Upon the receipt of your funds in our bank account, the funds will be held there for 5 business days before they will be credited to your Alto account in case of any chargebacks. You will receive an email from Alto once the funds have been credited to your Alto account!
Cancel a Cash Contribution
In cases that you need to cancel a cash contribution after initiating it in your Alto dashboard, you may be able to undo the cash contribution by following one of these steps below:
If you change your mind or have made a contribution in error, then you can contact your bank right away to ask them not to send us the ACH.
If your bank has already sent your ACH to us, then you may be able to ask your bank to reverse the ACH.
If the funds from your cash contribution have already been credited to your Alto account, then the funds can be returned to your bank account as a distribution, which may be subjected to tax penalties. You could also roll those funds to another retirement account where you may not face any tax penalties in doing so. We recommend consulting with a tax professional to receive advice on which would be a better option.
Tip: If you'd like to transfer funds out of your Alto account to a personal bank account, then please reach out to our support team at help@altoira.com or use our Contact Us form so we can help you get started with your one-time distribution.
Recharacterization of IRA Contributions
Recharacterization of IRA contributions refer to when you need to change the cash contribution details if the cash contribution is already credited to your Alto account. The kind of recharacterization that we can help you with includes changing the type of IRA the cash is contributed to or the year of the cash contribution that's already been made. To learn more about recharacterization of IRA contributions, please visit the IRS website here or seek advice from a tax professional.
If you would like to recharacterize a cash contribution in your Alto account, please follow the steps below.
Select Transfer Funds at the top of the page
Select Recharacterization from the drop-down menu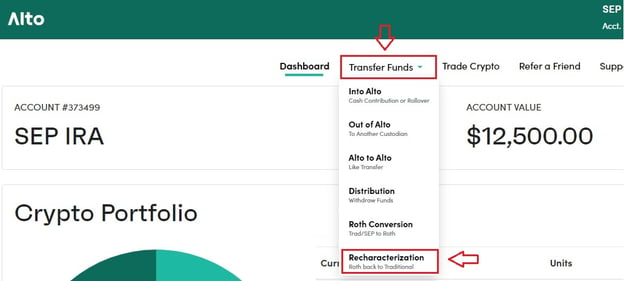 For which institution will be receiving your funds select AltoIRA
Enter the account number of your Traditional/SEP AltoIRA account
Enter The account type
Enter the amount you want to transfer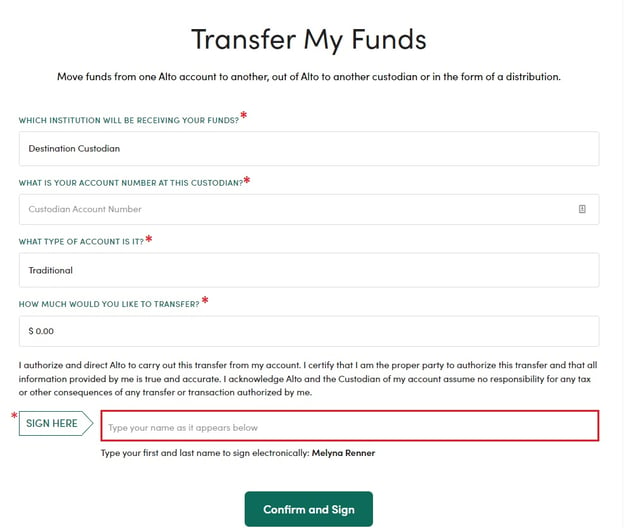 Fill out the required fields on the Recharacterization form and sign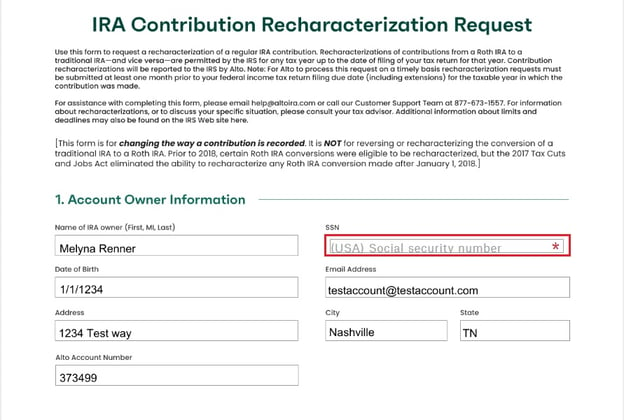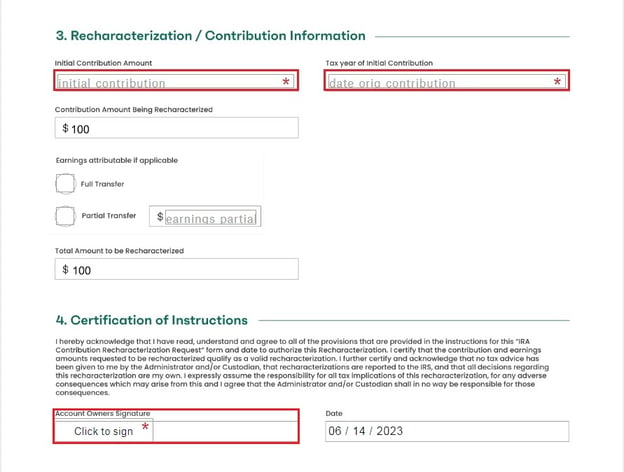 If you have any questions, please reach out to us:
Phone: 877-673-1557
Email: transfers@altoira.com