A guide to transferring funds to an external retirement account
Here's how to transfer funds from your Alto account to another retirement account:
1. Select Transfer Funds at the top of the page
2. Select Out of Alto from the drop-down menu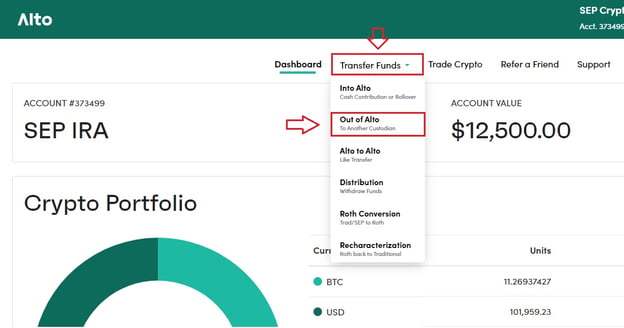 Enter destination custodian name
Enter destination custodian account number
Select IRA type
Select the amount you would like to transfer
Enter your name to e-sign the request

Pro Tip: For your transfer request to be completed quickly, be sure to double-check that the information provided for the account you want to transfer to is completely accurate. Any incorrect information could delay the request.
Note for CryptoIRAs: To transfer cash to another custodian, you may need to sell applicable cryptocurrencies and then transfer the funds from your crypto wallet to your IRA cash balance. For a quick step-by-step guide on how to do this, click here.
3. Ask your custodian to send Alto a transfer request.
Contact the custodian you're transferring to and ask them to send Alto a transfer request. This step has to be done by the individual transferring the funds, and unfortunately, we can't complete your transfer without receiving a request from your new custodian.
Your custodian can send us a transfer request through any of these methods:
Email - transfers@altoira.com
Fax - 615.334.4771
Mail - Alto Solutions, Inc. 500 11th Ave N Suite 790 Nashville, TN 37203
What happens once my transfer request has been completed and submitted to Alto?
Once the outgoing request is received we can send the wire the same day if received before 2:30 CST or next business day if after cutoff. If a check is requested it currently takes 10-12 days for processing and for the new custodian to receive the check.
Note: Depending on how your custodian sent the transfer request to us, it can often take 10+ business days from the time your custodian sent the request, to the time it was received by us.