A step-by-step guide on converting a traditional IRA to a Roth IRA
How to do a Roth conversion with Alto
Once you have both a traditional (non-crypto) IRA and a Roth IRA open, you can reach out to us and request a Roth conversion form. The form will note the amount of funds to be moved from your traditional or SEP account to the Roth account and allow you to select any applicable withholding.
After you have completed and submitted the form and submitted, our team will review the form and then walk you through final steps. Upon review and receipt of the form by Alto, the movement of funds should be completed within two to three business days.
Step-by-step how-to
Interested in converting your traditional IRA to a Roth IRA? Simply follow these steps:
Create your traditional IRA.
Note: Make sure this is created as an Alto IRA, even if you want to invest in crypto with the converted/backdoor Roth.
When you get to the "Start the Transfer" page, be sure to select "Make a cash contribution from a bank account."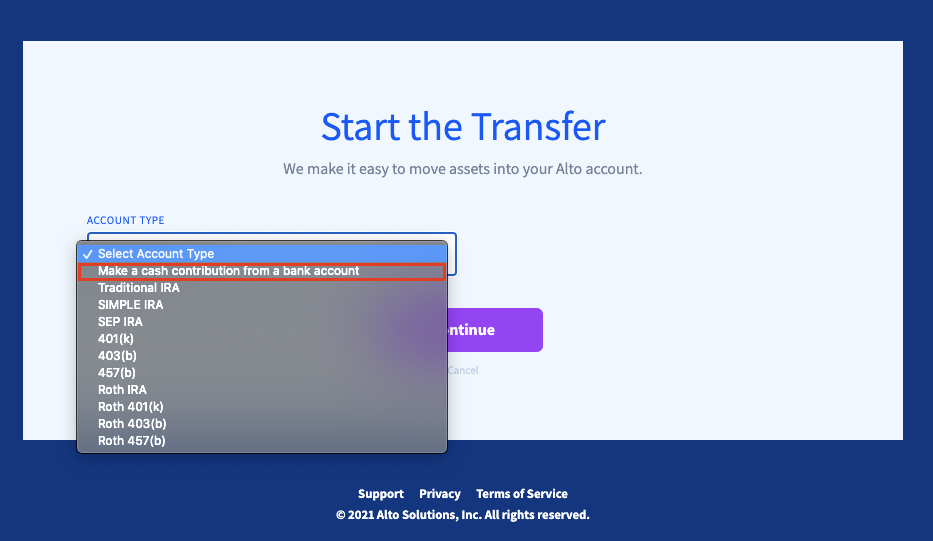 You'll be prompted to add a credit card, but no worries—simply skip this step.
Create a Roth IRA with Alto here.
Pick the account type based on what you'd like to invest in—whether it's an Alto IRA or CryptoIRA.
When you get to the "Start the Transfer" page, simply stop the account setup process and continue onto the next step below.
Email us at help@altoira.com with the subject line "Roth conversion request."
We'll email you a Hellosign form to e-sign for the conversion.
Once you've submitted the form, a member of our team will review it to ensure the information is correct. We'll then be in touch to walk you through finalizing your backdoor Roth.
Note: Once you have both of the IRAs created and have requested a cash contribution for the traditional IRA, it can take up to 10 business days to complete the full conversion.