Transfer securities to your Alto IRA in a few easy steps.
1. Sign in to or create your Alto account.
2. From your dashboard, select the I Want To drop-down menu, then click Transfer Securities.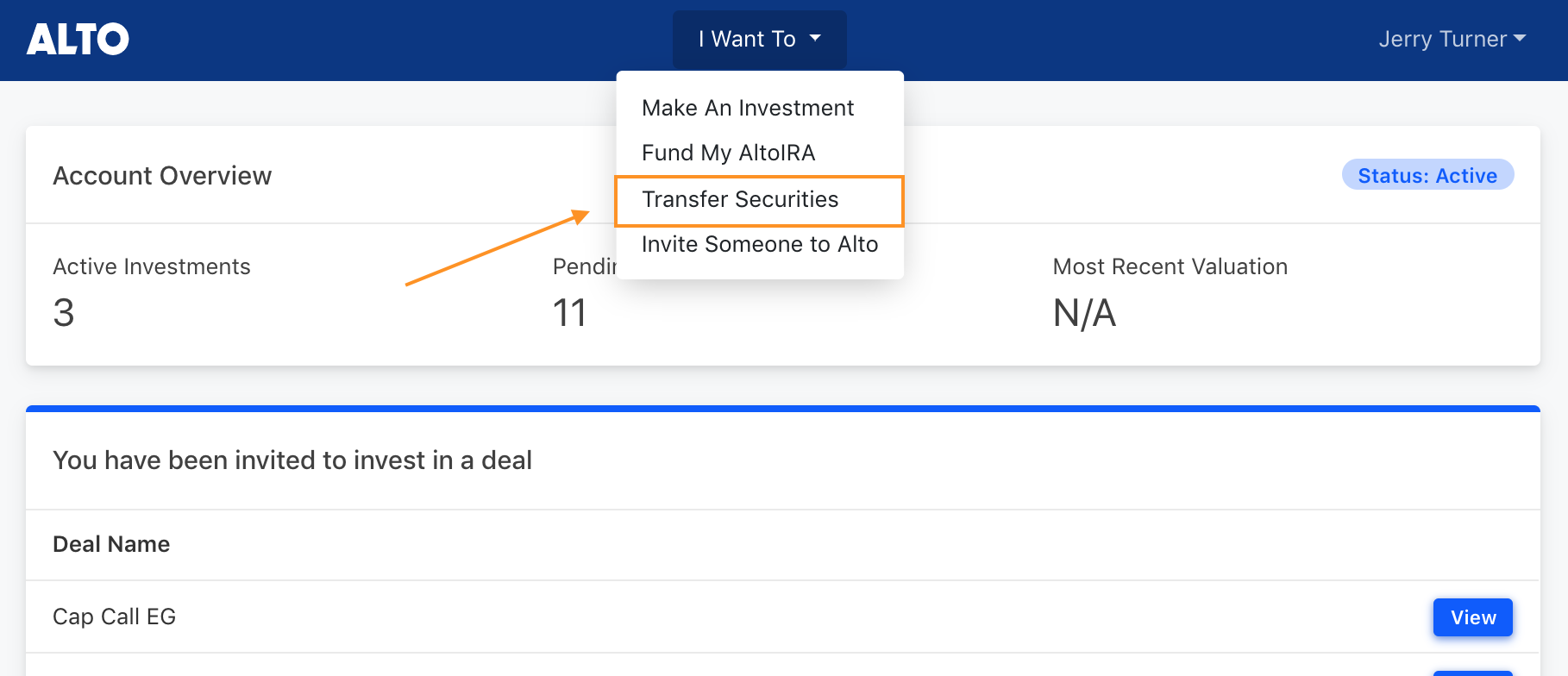 3. Alto will then ask a few questions to better serve you. In this example, we will select Yes and click Next.If you are transferring securities that aren't currently held in custody by another provider, the platform will ask you a separate set of questions to determine transfer eligibility.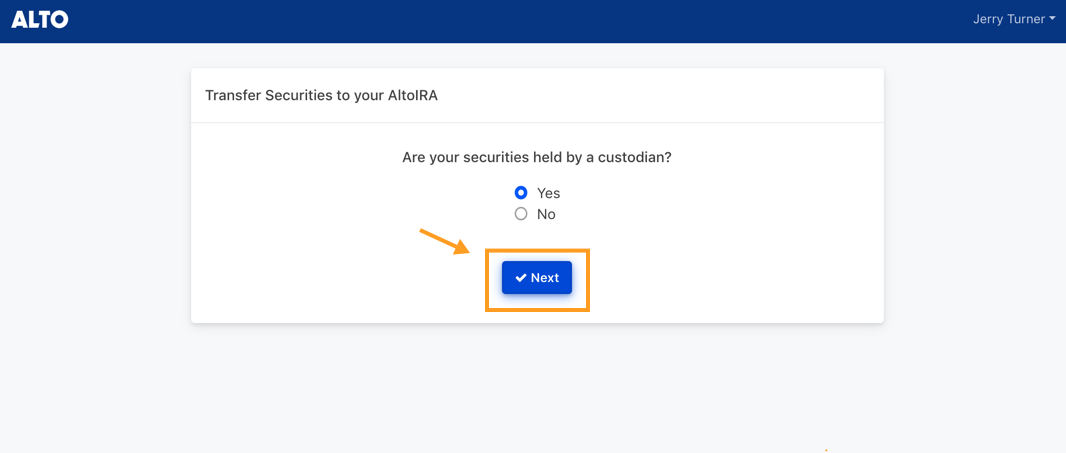 4. Select the current custodian of the securities you wish to transfer and click Next.

5. Select the type of account the securities are currently held in and click Next.

6. Enter in security details, including name, share class and issuer contact information. Then, click Next.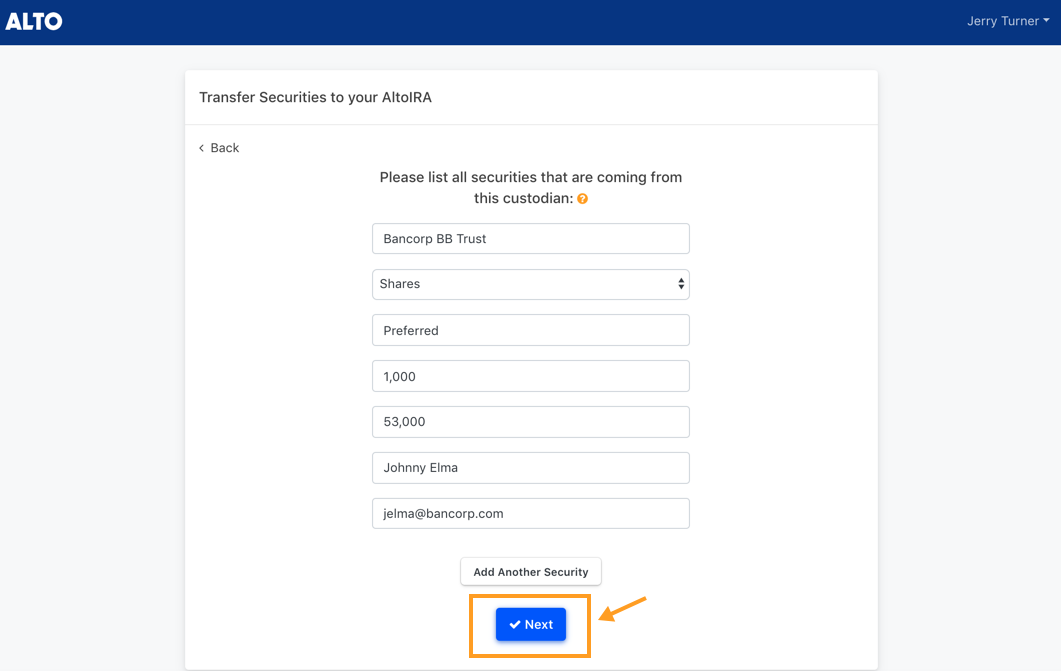 7. Almost there! Review all of the information you provided, read through the Direction to Transfer agreement, and provide your E-Signature. If any changes need to be made, click Make Changes to do so. Otherwise, click Start Transfer.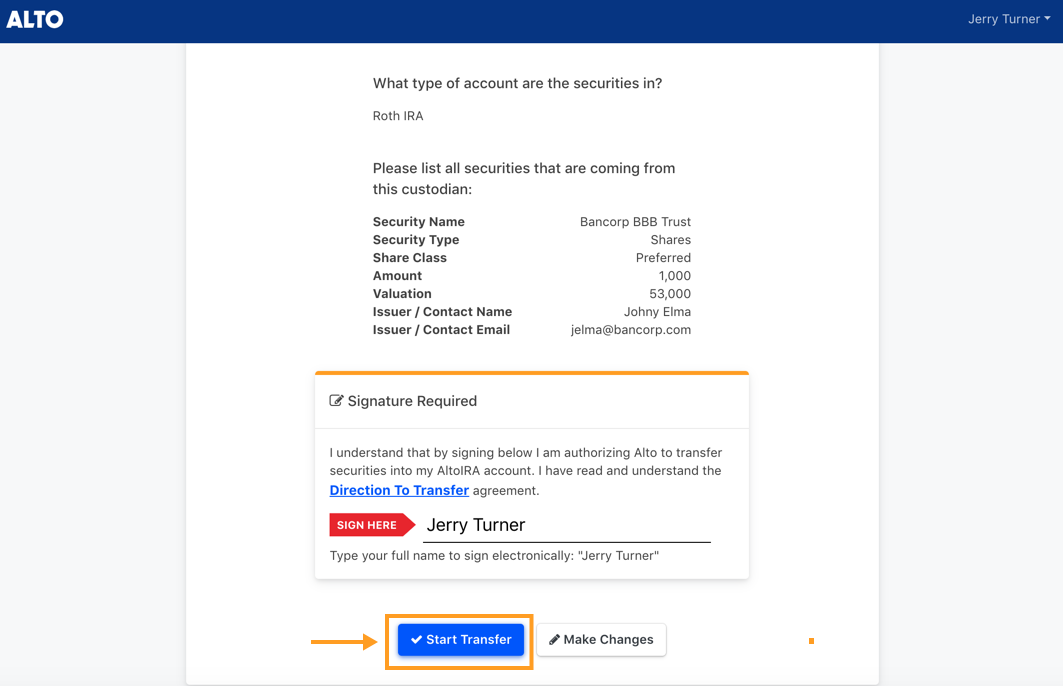 8. Click Proceed to DocuSign to Complete Process.

9. After completing the DocuSign requirements, click Finish.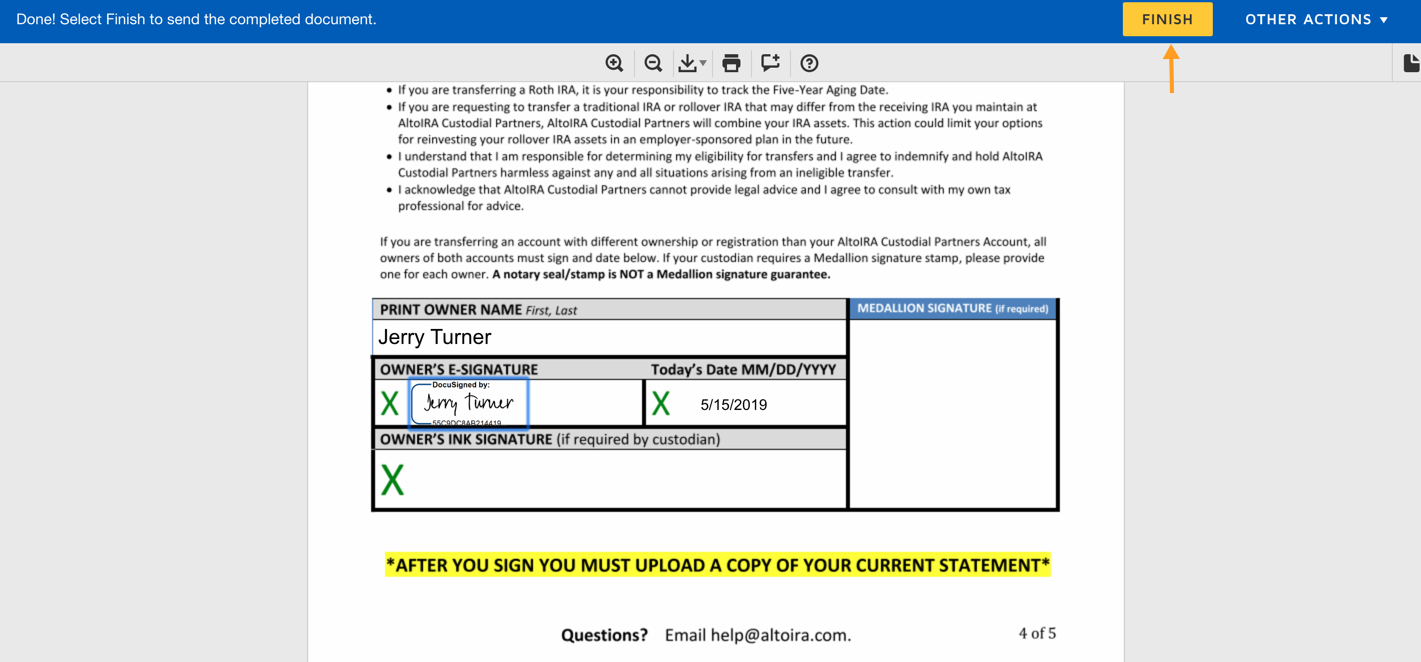 10. Great! Alto will require a current account statement to be uploaded. Additionally, most custodians require a Medallion Signature to initiate a securities transfer. Let's get started on that.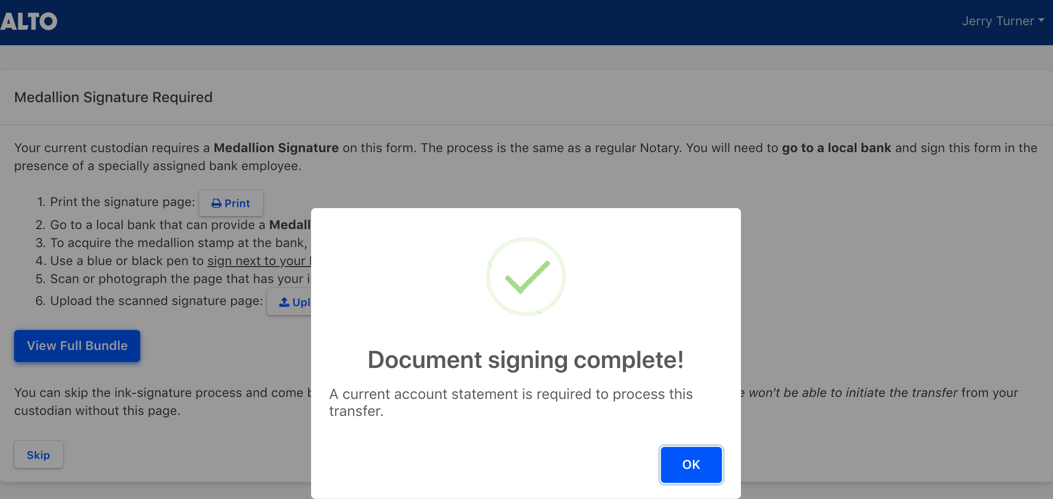 After clicking OK, print the Signature Page and bring it to a bank that you have an existing relationship with. Once there, you will provide an ink signature in front of a bank employee so they can verify your identity and provide the Medallion Stamp Guarantee.

Please ensure that you sign in the Owner's Ink Signature box. Do not provide an ink signature Owner's E-Signature box, this is a common mistake that can sometimes cause custodians to refuse the transfer. After signing your name and receiving the Medallion Stamp, your Signature Page should appear similar to this: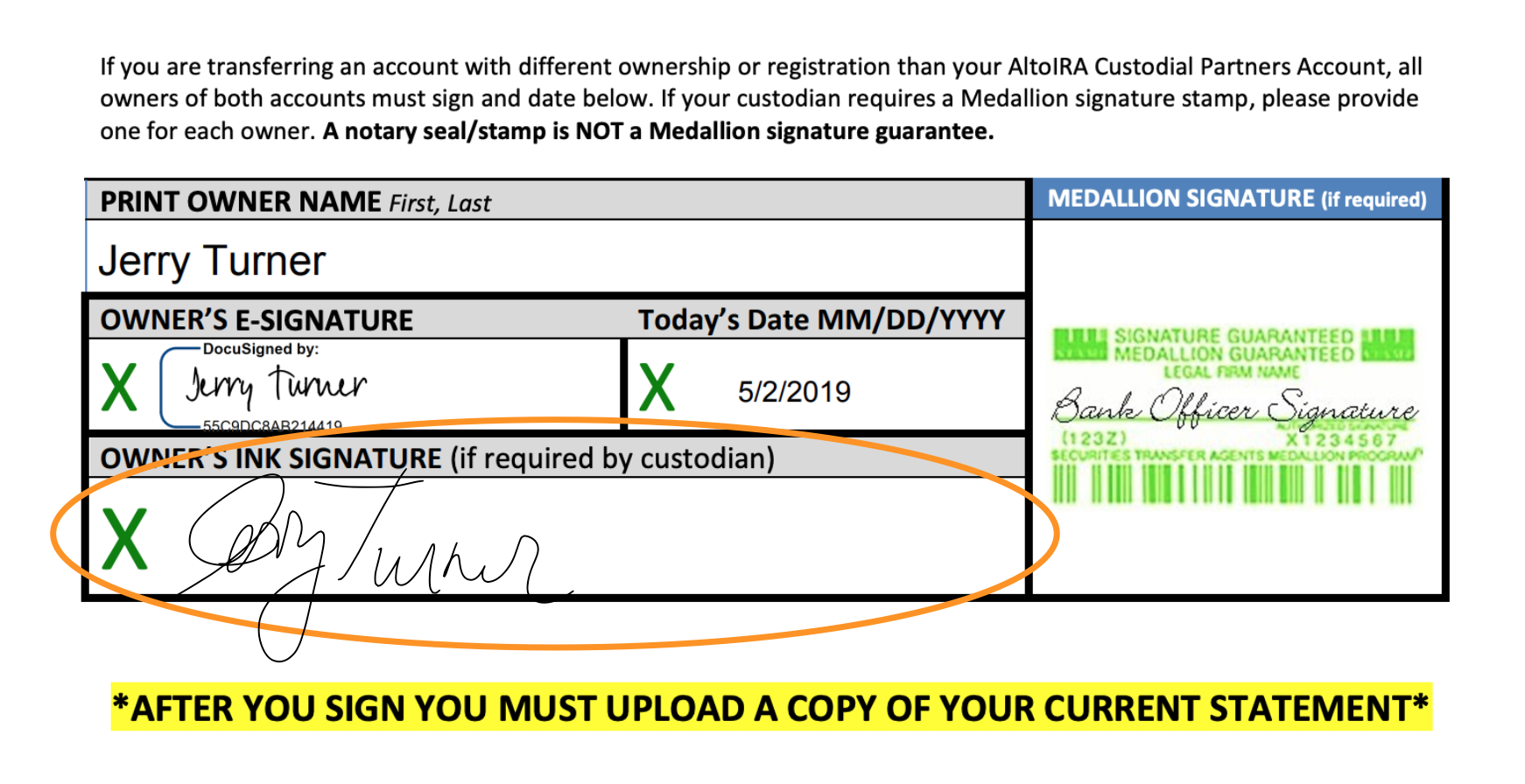 Scan the page that has the ink signature and Medallion Stamp, and use the Upload button to attach it to the bundle. Click Submit to continue to the last step and upload a current account statement.
11. Your current custodian requires a recent account summary page for identification verification purposes. To upload, simply click Browse to select your account statement document and then click Submit.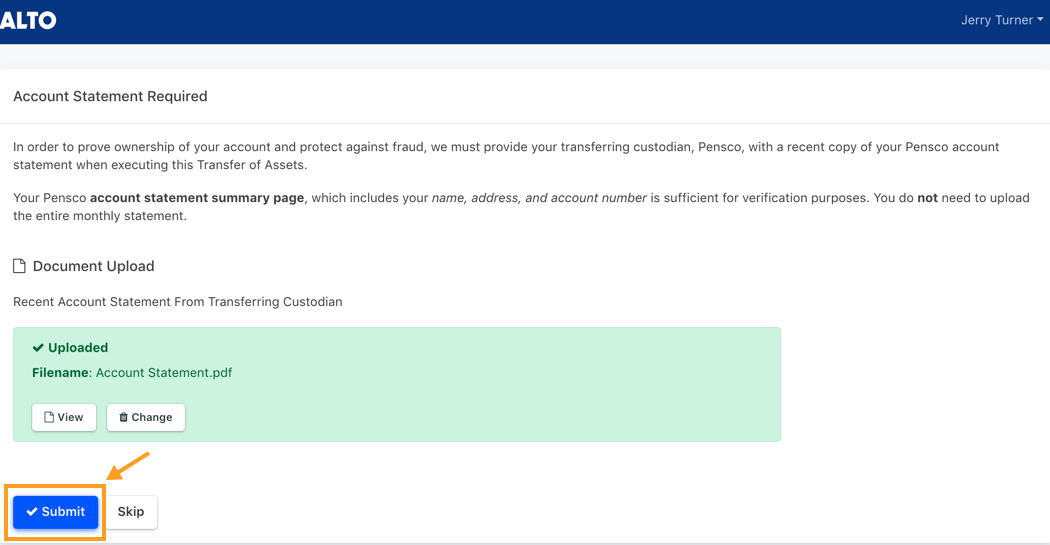 12. Your request is now initiated! Most Custodians will require that they hear from you as the client in order to process a Securities Transfer. Please make sure you give them a call 24-48 hours after the transfer has been initiated so we can take it from there!