Click here to get started on using your Alto IRA to invest in Prosper Notes
1. You will need to enter your zip code to ensure that you are eligible to participate.

2. Once you confirm that you are eligible, choose your account type by selecting Individual Retirement Account (IRA)
3. You will then enter your personal information before selecting Continue.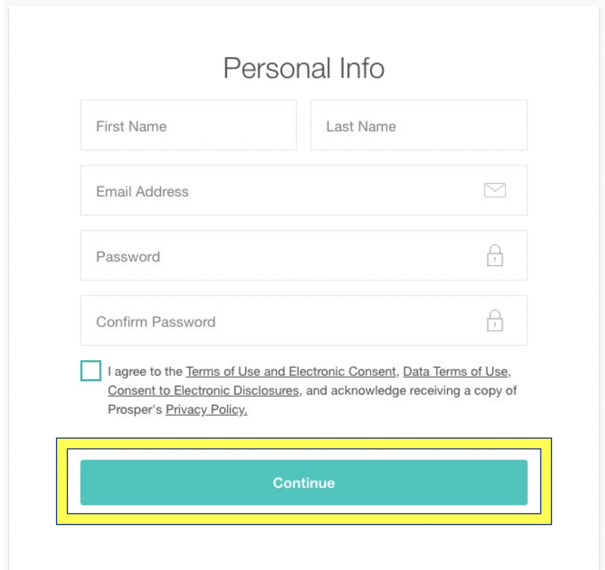 4. Next, enter your contact information before selecting Continue.
5. Enter your tax information before selecting Continue.
6. Review your account before selecting the boxes and selecting Continue.
7. Select Set Up IRA to connect your Prosper account to your Alto IRA.
8. You will be prompted to sign into your Alto account. If you do not have an account, click Need to create an account? Sign Up.
If you do not have an account, please visit our help article for more information on the activation process
9. You will then need to finalize the investment on Alto by selecting Authorize.
10. In your Prosper account, select the desired amount for the investment before clicking Invest Specified Funds.
11. You will be prompted to authorize the investment. Please select Authorize to proceed.
12. You will be prompted to log in to your Alto account and e-sign your Direction of Investment to grant permission for us to send funds to Prosper on behalf of your IRA. Additionally, you will need to initiate a transfer request to fund your account if your available cash balance is not enough to cover the investment.
Alto will send funds for the investment once the following criteria are met:

Your account has been open for seven days.
Your account is funded.
You have e-signed the Direction of Investment.
You have completed the subscription process on the Prosper site.
If you have questions about the investment process, please contact our Client Experience Team at help@altoira.com or 877-673-1557.