Invest tax-advantaged in curated late-stage private companies
Welcome to AltoIRA, we're so glad you're here!
AltoIRA is a digital platform that makes it easy for individuals to invest in alternatives using their IRA. You can find our fee schedule and learn more about AltoIRA here. Once you've completed the steps outlined below, AltoIRA will direct funds on your behalf and execute your IRA's investment. AltoIRA will provide annual IRS tax reporting, including Form 5498 and 1099-Rs (if applicable), which will be available in your online Tax Center.
Should you need help at any time, don't hesitate to reach out to our team at help@altoira.com or by calling (877) 673-1557.
This walkthrough covers the following steps necessary to invest on Equiam's online platform:
Open, Fund, and Set Up Your Alto IRA
Open, Fund, and Setup Your Alto IRA
Open Your Alto IRA
Register: Click this link to get started. Select Investor as the account type and enter in your name, email address, and login information.
Click the E-Sign embedded link to review disclosures and I agree button to confirm your understanding.
Return to the register page to check the I accept box and click Sign Up.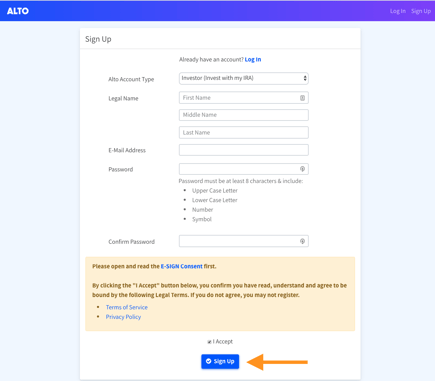 Verify your email: Check your email inbox and click Confirm Email to log back into Alto and continue. Didn't receive the email? Check your spam folder or email equiam@altoira.com for additional assistance.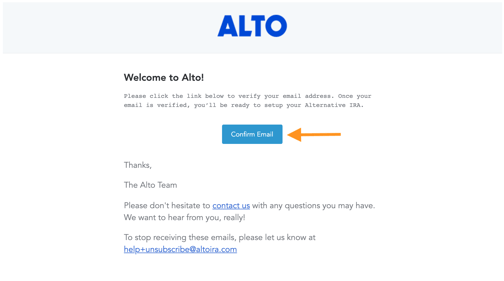 Setup your IRA: After confirming your email, please select Private Equity, Venture Capital, Real Estate as your desired investment type and click Next.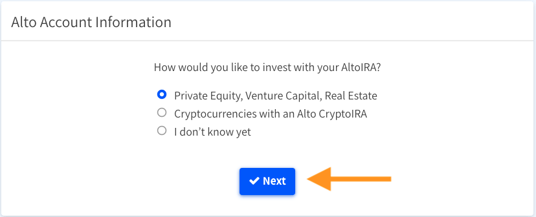 Select your desired IRA type and click Next.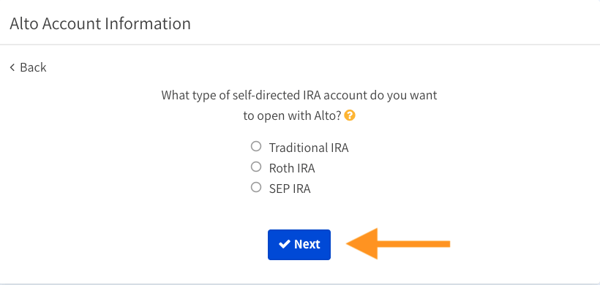 Enter your home address and click Next.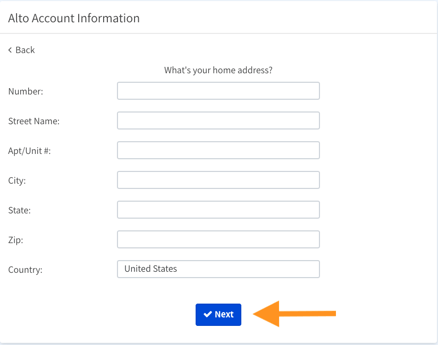 Enter your phone number and click Next.

Enter your birthdate and click Next.

Enter your Social Security Number and click Next.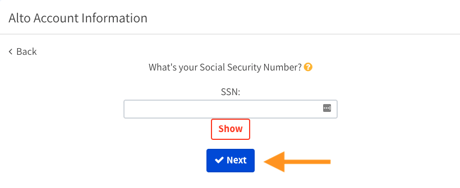 On the final page, you can review your IRA setup summary and finish by E-Signing and clicking Create My IRA.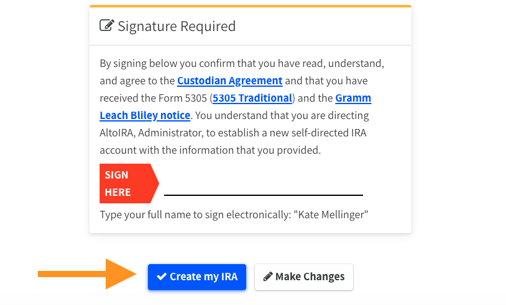 Congrats! Your Alto IRA is now set up and ready to fund.
Fund Your Alto IRA
Once you've set up your Alto IRA, you will be prompted to fund your IRA by either a cash contribution or by transferring from another retirement account. IRAs and former employee sponsored plans (including 401(k)s) are all eligible to transfer to your Alto IRA.
You can fund your Alto IRA at anytime by clicking I want to...Fund My Alto IRA from your center toolbar or by completing the Step 3- Transfer Funds into your new Alternative IRA prompt on your dashboard. You can also follow the prompt during initial setup.
You can find detailed walkthroughs on funding your Alto IRA via a cash contribution or transfer here. Please keep in mind the following funding timelines from the date of IRA creation:
Source
Method of Payment
Invest in as little as...
Cash Contribution
Wire
7 days
ACH
7-8 days
Transfer from another Custodian (dependent on Custodian lead times)
Wire
7-12 days
Check
12-24 days
Tip: Using a wire transfer as the transfer method is the fastest way to fund your IRA.
Add a Credit Card
Alto requires a credit card on file for investment and monthly admin fees. You can learn more about our transparent pricing here. During account setup, you will be prompted to add a credit card.
You can also add a credit card by returning to your dashboard and clicking Start alongside Step 4.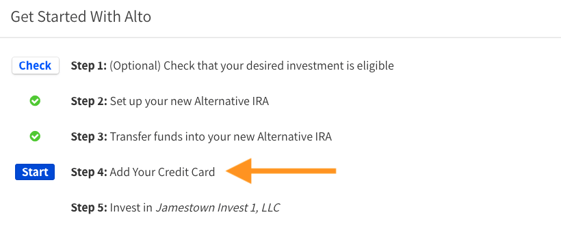 Enter in your credit card information and click Next.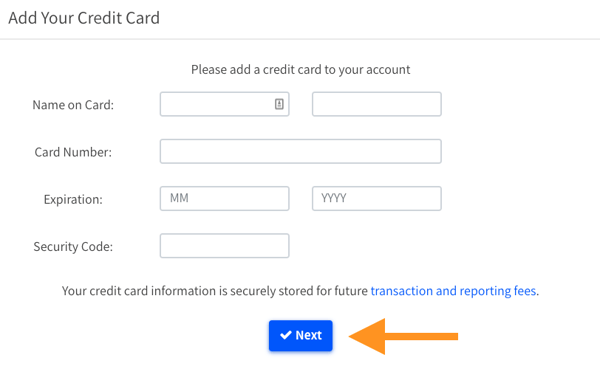 Confirmed! Your account is now setup and funding requested. Follow the steps below to complete the final step and confirm your investment into EQUIAM Private Alpha Fund.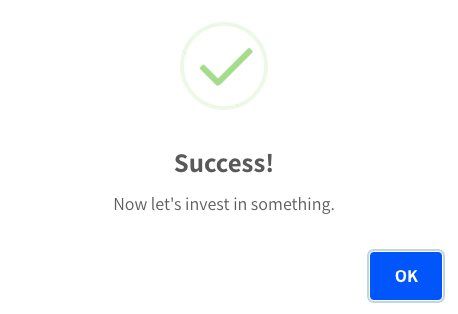 Invest in an Equiam Fund
Express Interest
If you haven't done so already, you can express interest by locating the fund you'd like to invest in on Equiam's site and clicking Express Interest .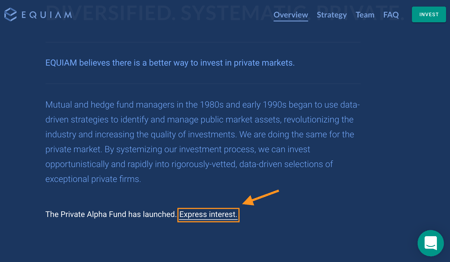 As you fill out the Express Investment Interest module, please select Yes to the question, "Do you wish to use tax-advantaged retirement assets (e.g, IRA) for this investment?" and click Submit to continue.
Note: The minimum investment amount is $500,000.
Once you've expressed interest, a member of Equiam's team will reach out to ensure your accreditation requirement has been completed. If approved, you will be sent an invitation to invest that can be accessed via email or through your AltoIRA dashboard. Please ensure that the email provided to Equiam's team is the same email your account is registered to with AltoIRA.
Accept Investment Invitation
To accept your invitation to invest in an Equiam fund, either click this link, locate the offering invitation on your dashboard and click View, or continue in the initial setup flow.

After answering a few questions to help prevent what is considered a "prohibited transaction" by the IRS, you will be prompted to review the deal documents and approve your investment amount. Please enter the amount you'd like to invest, and click Review & E-Sign to continue.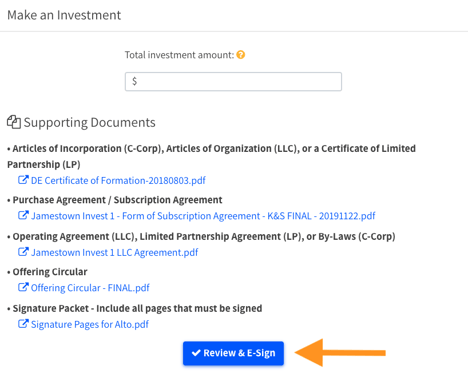 After clicking Review & E-Sign, you will be prompted to E-Sign your Direction of Investment. To do so, first review the Direction of Investment by clicking the hyperlinked text, Direction of Investment.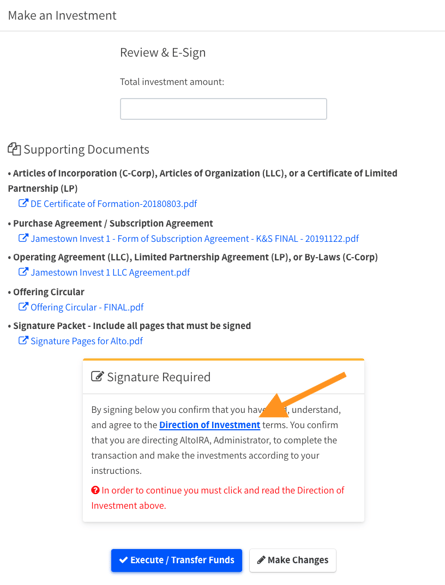 The Direction of Investment allows AltoIRA to invest on behalf of your IRA, with your consent to the individual investment as the beneficial owner. You can confirm you've read and understood the Direction of Investment by clicking I agree at the bottom of the page.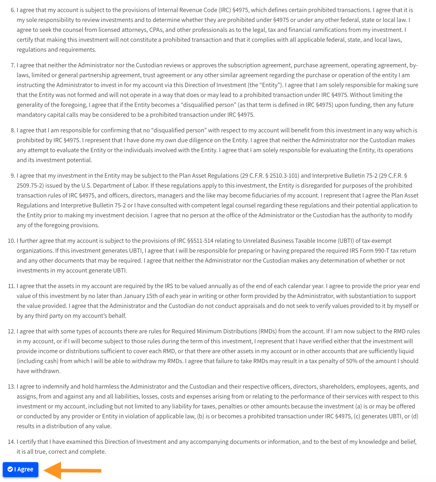 After agreeing to the Direction of Investment, you will be prompted to return and provide final approval via an E-Signature. If you have any questions or need to change your commitment amount at any point, please contact equiam@altoira.com. Type in your name and click Execute/Transfer Funds to submit your request.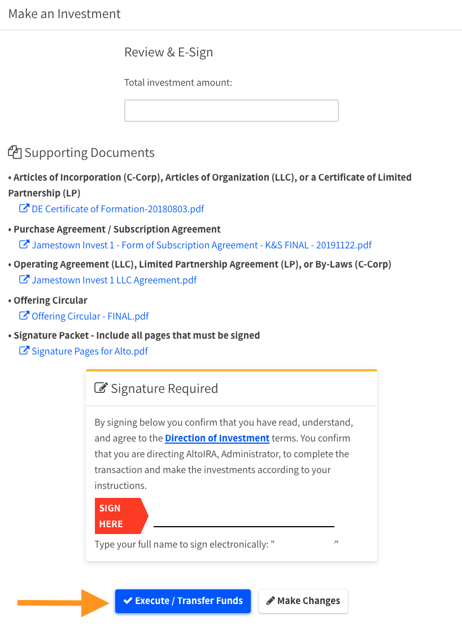 Your investment is now pending. As soon as a member of EQUIAM's Investor Relations team approves your investment request, AltoIRA will send funds on behalf of your IRA. To complete your investment, you will need to confirm your subscription on EQUIAM's platform. See below for a step-by-step guide.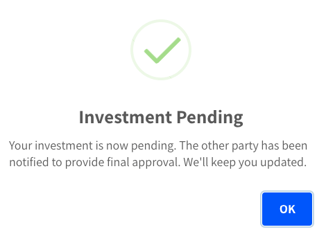 What to Expect Next
After you've completed the steps in the above walkthrough, you can expect the following actions to take place by the Investor Relations teams of Equiam and AltoIRA:
Approval- A member of the Equiam team will review and approve your investment request on the AltoIRA platform.
Execution- AltoIRA will execute subscription documents via DocuSign and wire funds to Equiam in the name of your IRA.
Finalization- After confirming receipt of funds, AltoIRA will mark your investment as active and you will be charged an investment fee to your card on file.
Once your investment is active, any distributions will be returned tax-sheltered to your IRA. You will be charged a monthly admin fee dependent on your account value, and AltoIRA will take care of annual IRS tax reporting. Account statements, tax documents, and beneficiaries can be managed in your dashboard settings by logging into https://www.altoira.com/. Please visit our Help Center to learn more about your Alto IRA and how to use it.
Where to Learn More
You can connect with a team member by emailing equiam@altoira.com, calling (877) 673-1557, or by scheduling a time that works best for you here.
Our team is standing by to help answer any questions you may have, and are also available to chat online 8am-5pm CT via the chat bubble in the bottom right corner of this article.