In the event that you need to edit deal documents or change an investor's commitment amount, we've got your back.
You will be able to edit the deal documents and change the investor's commitment amount from within your issuer account until the point that Alto signs on behalf of the investor. If you need to make changes after we've signed, please contact help@altoira.com.

1. From your dashboard, click on the name of the offering whose documents you'd like to change.

2. Once on the offering's page, you'll see an Edit button in the upper right hand of the Documents section. Click it.

3. The below confirmation message will show. Please click Confirm and then Undo Finalization. This action will make it so that you can edit the deal documents. It will also void any e-Signatures that you or the investor have provided — both parties will need to provide their e-Signatures again before Alto is able to approve the investment. Lastly, this will also give you the ability to edit other details such as an investor's commitment amount.

4. To the right of any given document, you'll now be presented with an option to Delete that document. Once you do so, you'll be able to upload another in its place.



5. If you would like to edit an investor's commitment amount, now is the time! Start by clicking on the appropriate investor's name at the bottom of the offering page.

6. From that investor's Investment Details page, click the link that reads Edit next to the Amount Committed to Invest.
7. Enter the updated commitment amount and click Update.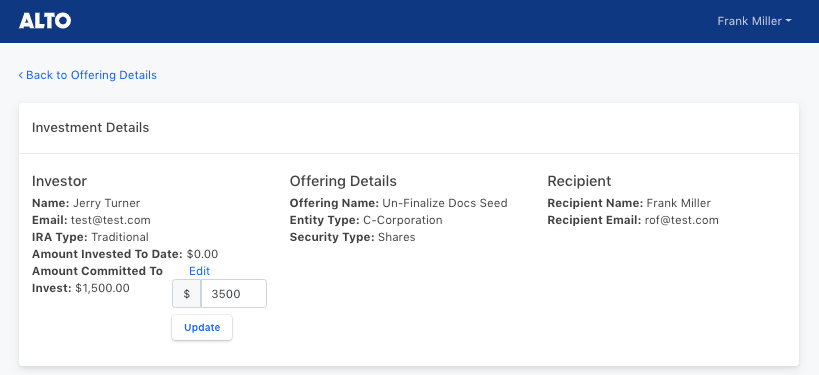 8. This will take you back to the Offering Details page where, if you're satisfied with your investors' commitment amounts and the deal documents, certify that you would like to finalize the documents and details by clicking No, I'm finished. If you would like to make additional changes to the documents or commitment amounts, please do so before finalizing the documents.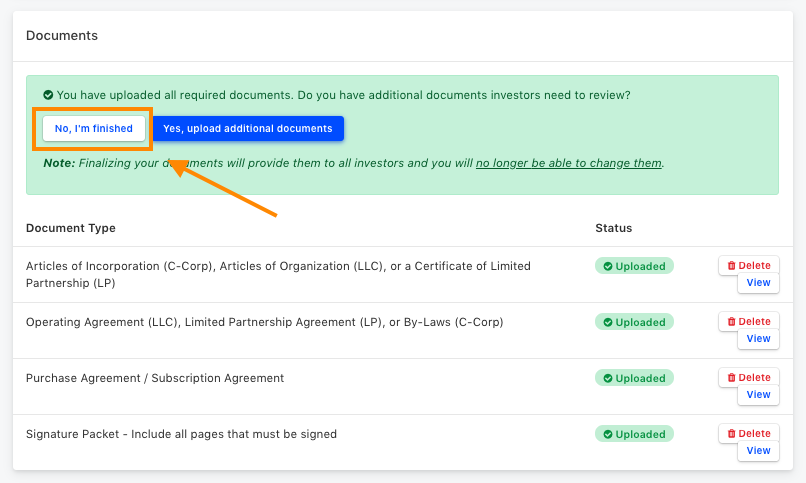 9. From here, your investors will be prompted to provide new e-Signatures and, once they do so, you will be asked to provide the same. And that's a wrap!