1. From your Alto CryptoIRA dashboard, click the Trade Crypto button at the top of the window.

2. To buy cryptocurrency, click the Trade button below your USD in Coinbase Wallet tab. You will only be able to buy cryptocurrency once your Alto CryptoIRA is funded. If you've not yet funded your AltoCrypto IRA, see How To Fund Your Alto CryptoIRA for a step-by-step walkthrough of how to do so.

3. After opening the Trade window, you'll be presented with the option to place a buy or sell Market or Limit Order. Select the option that you want, currency, amount, and click Preview Order.
Remember, you will not be able to cancel a Market Order after submission because it is immediate, whereas it is possible to cancel a Limit Order after submission, provided that it has not yet been executed.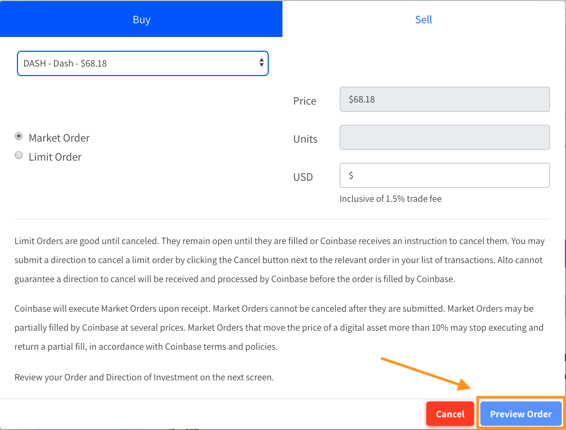 4. After reviewing your order summary, Direction of Investment, and estimated fees, E-Sign your name and click Submit Order.

Success!
If you run into any difficulties, keep in mind that you need to proceed somewhat quickly after opening the Trade window to ensure that you are paying an accurate market price. Of course, be sure that you are satisfied with the trade you are making, but if you idle for too long, you may need to refresh the page and begin anew.
Additionally, be sure that you are not attempting to buy so much of a given cryptocurrency that its price exceeds the USD amount in your Coinbase wallet, because you will not be able to submit your order if that is the case.
For more help and the opportunity to contact an Alto representative, please email cryptohelp@altoira.com.